Transfer data 10x faster with USB 3.0s. 
Adding big gigabytes to your pocket in the most compact way.  This 16, 32, 64, or 128 GB USB 3.0 drive can be added easily to any KeySmart. The drive has a full aluminum housing that is very sleek and smooth.  More importantly, it protects the drive from harsh environments and falls.
Takes up 2 slots in any KeySmart.
8, 16, or 64 GB USB 3.0 drive
Free Shipping!
On U.S. orders over
$25.00 USD
•
International orders over
$45.00 USD
Customer Reviews
Filter Reviews:
keys
keysmart
keyring
quality
needs
item
light
Tile
solution
11/07/2019
Jonathan F.
United States
Definitely not "super fast"
The good: The 16 GB Kingston DTSE9 G2 looks really sleek and is made from durable metal. With the way I have my keys laid out in my keysmart it fits perfectly opposite the bottle opener. It took me a while to figure out how to best place the spacers and my keys to fit this blocky USB-A connector without having my keys protruding out the side. Once I had everything arranged the way I wanted it felt awesome to always have a storage device with my keys in a way that didn't feel clunky. The bad: It's painfully slow. I noticed this right away when I started copying files onto it. What's the point of putting a USB3 connector on it if it's not going to leverage the bandwidth? I tried booting Linux (Debian) off it and the system runs excruciatingly slow, almost unusably so. This makes it painful to consider replacing the 32 GB microcenter USB3 drive I carry now, even though this is much more convenient. So on summary, I love the packaging, even if for some it may be too bulky, but the overall speed is an absolute bummer. Given how this is specifically advertised for speed, I can't help but give it 2 stars.
11/06/2019
Charlie L.
Mexico
Very unsatisfied. I paid $25
Very unsatisfied. I paid $25 for a 3.0 16GB Keysmart brand USB Drive but instead, I received a Kingston brand USB Drive. If I would've want a Kingston one, I could've bought one for less than $10. I was planning to purchase a keysmart for my wife but it was such a rip off. I will be returning it, DO NOT BUY!!!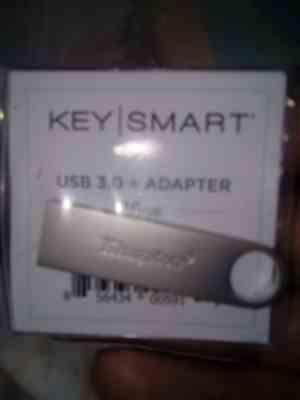 11/05/2019
JASON S.
United States
I like It
Easy to use and be nice to hold more keys.
11/05/2019
Andrej K.
Slovakia
Bad Shipping
I haven't gotten it yet :/.
11/05/2019
mike r.
United States
Key smart with tile rocks!
I'm loving my keys art with the time!
11/03/2019
Bill D.
United States
Better than expected
Inventor is creative with this product. Very useful for. Real Estate Owners with multiple property rentals and Maintenance crews. Additional perk/kudos to idea of having tile attached in case keys get lost. I'm satisfied