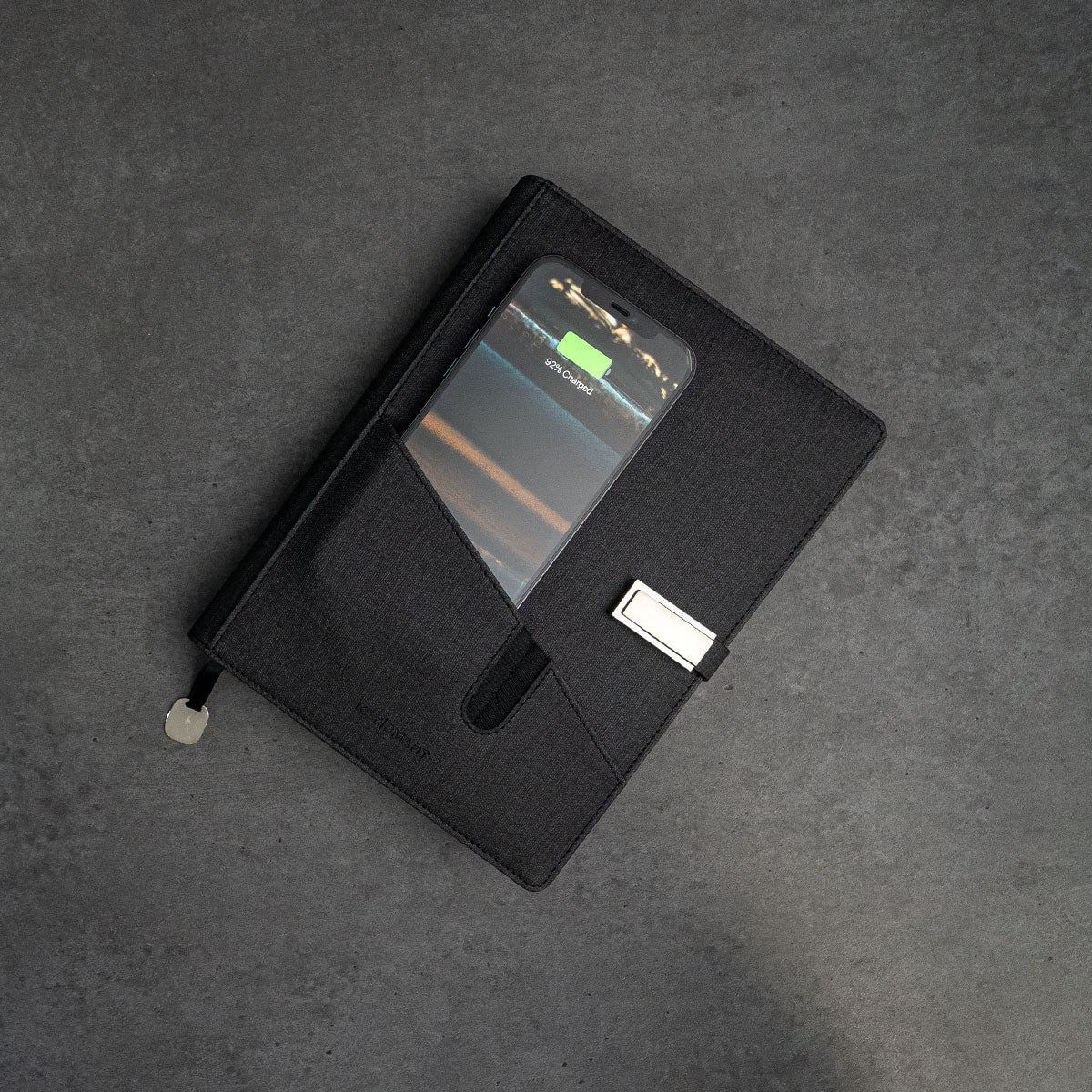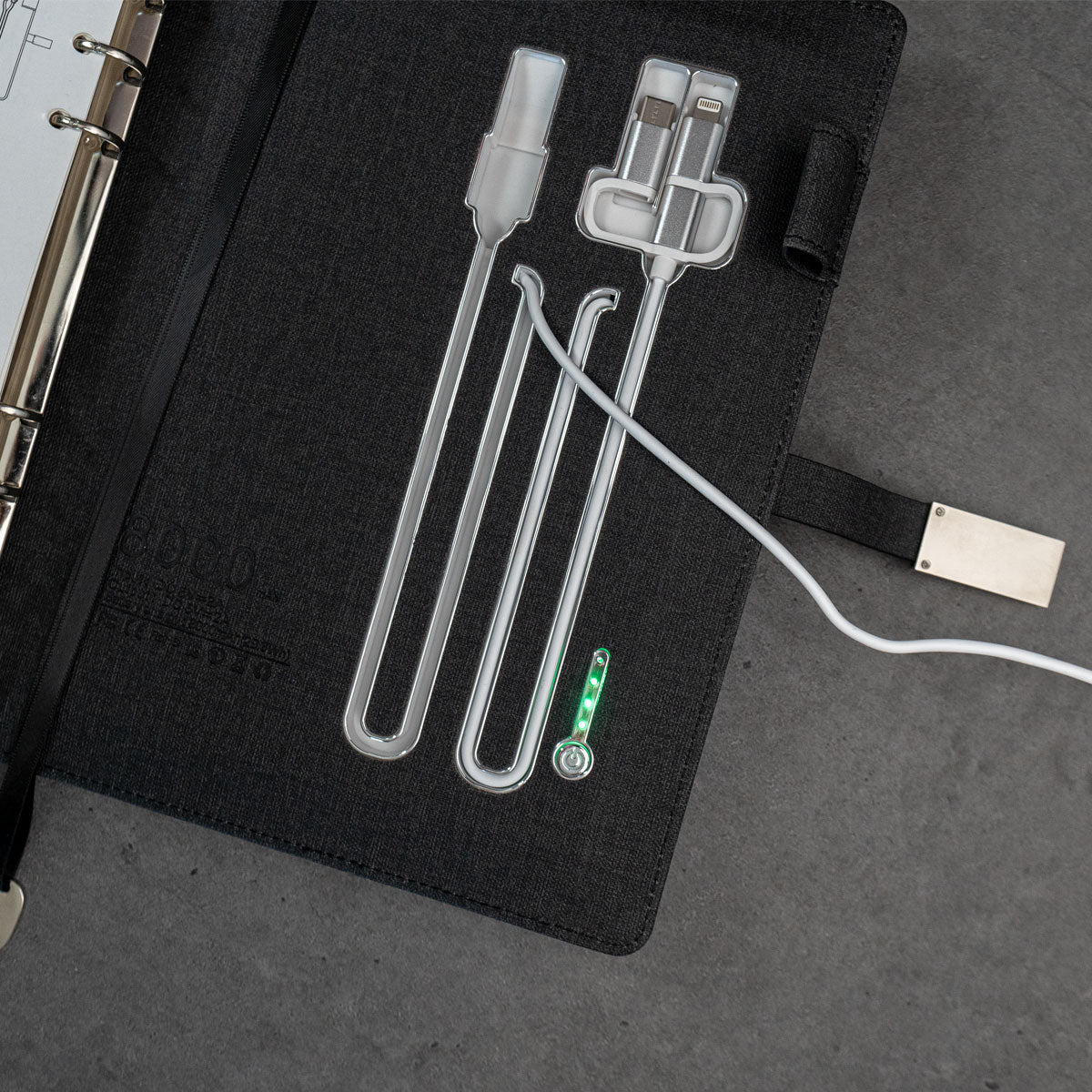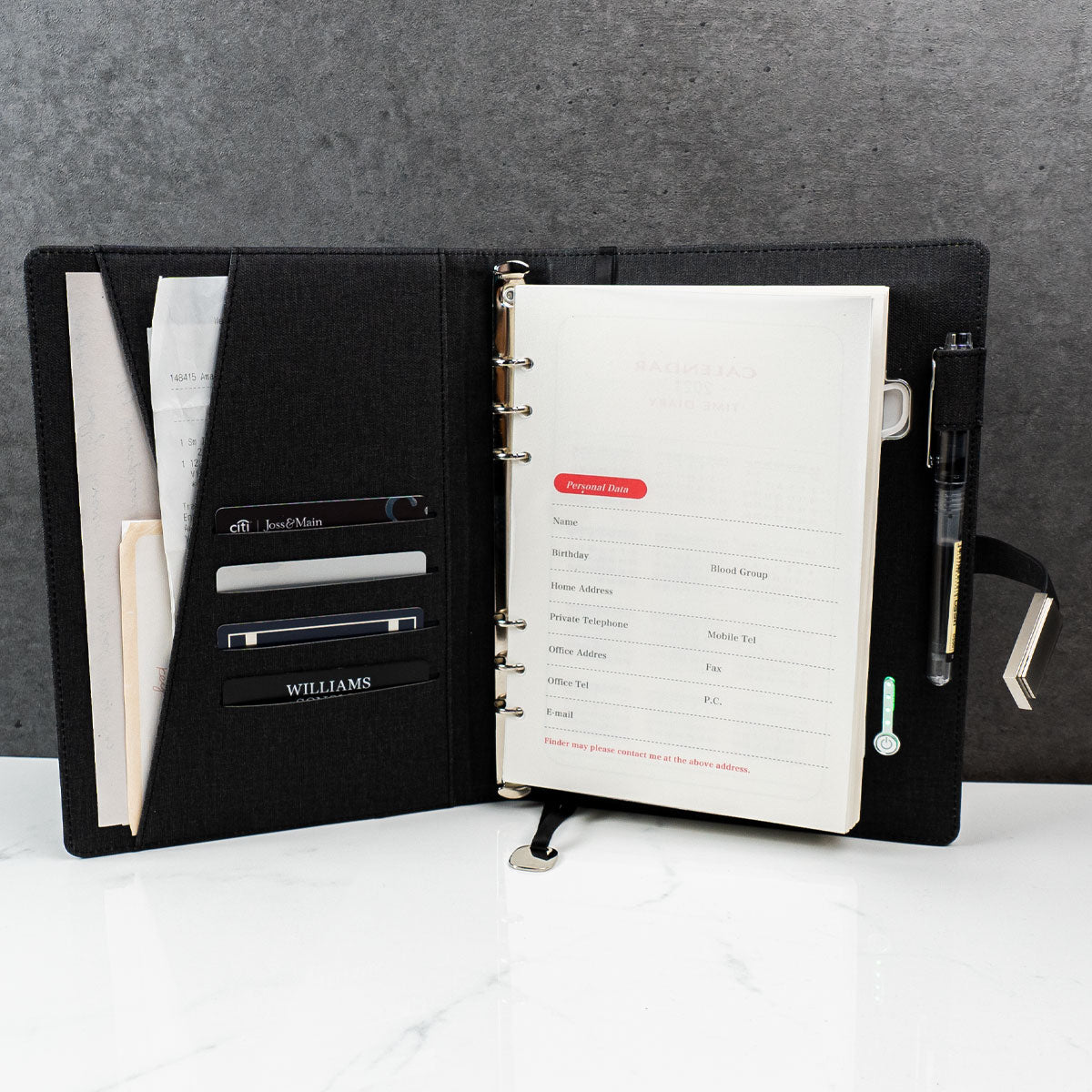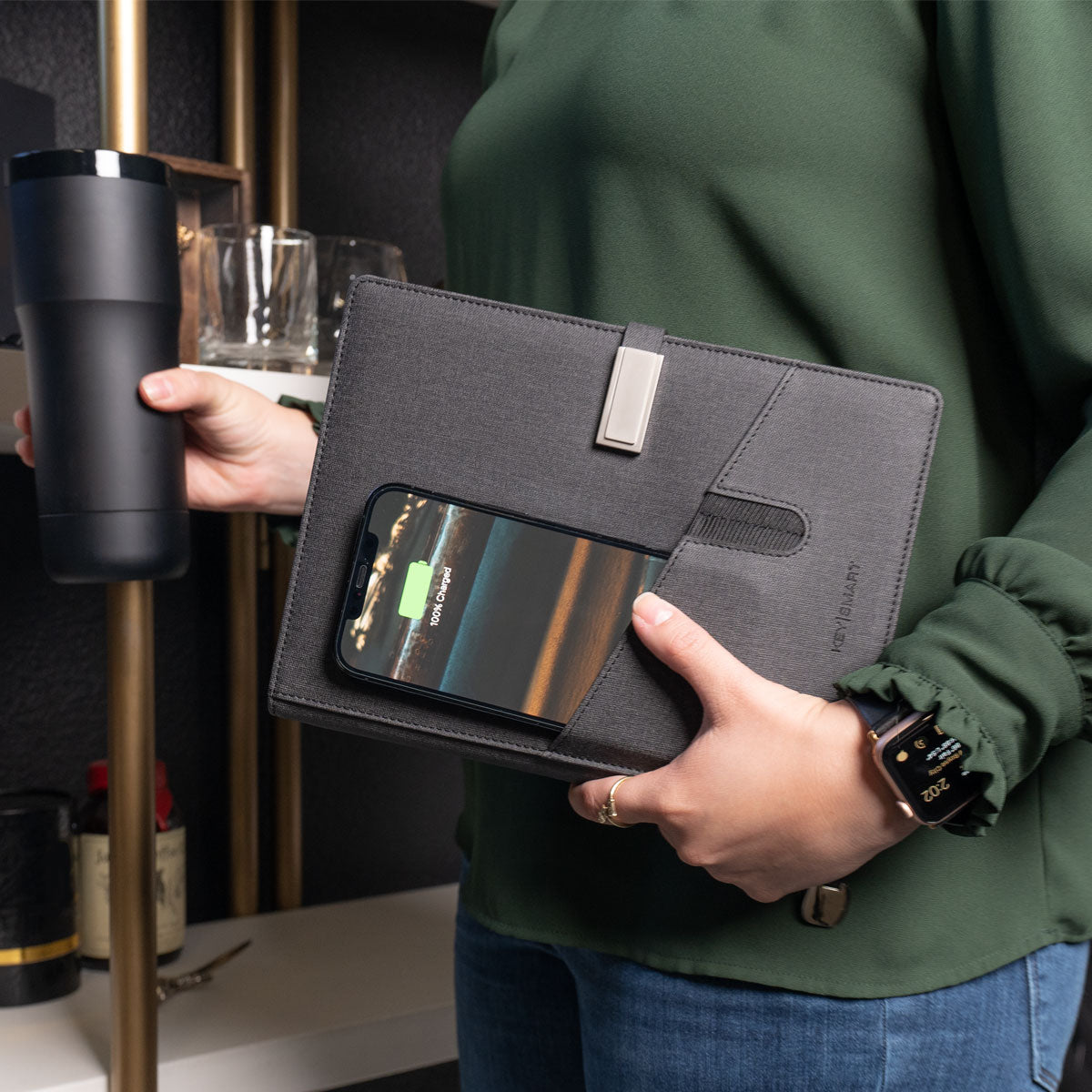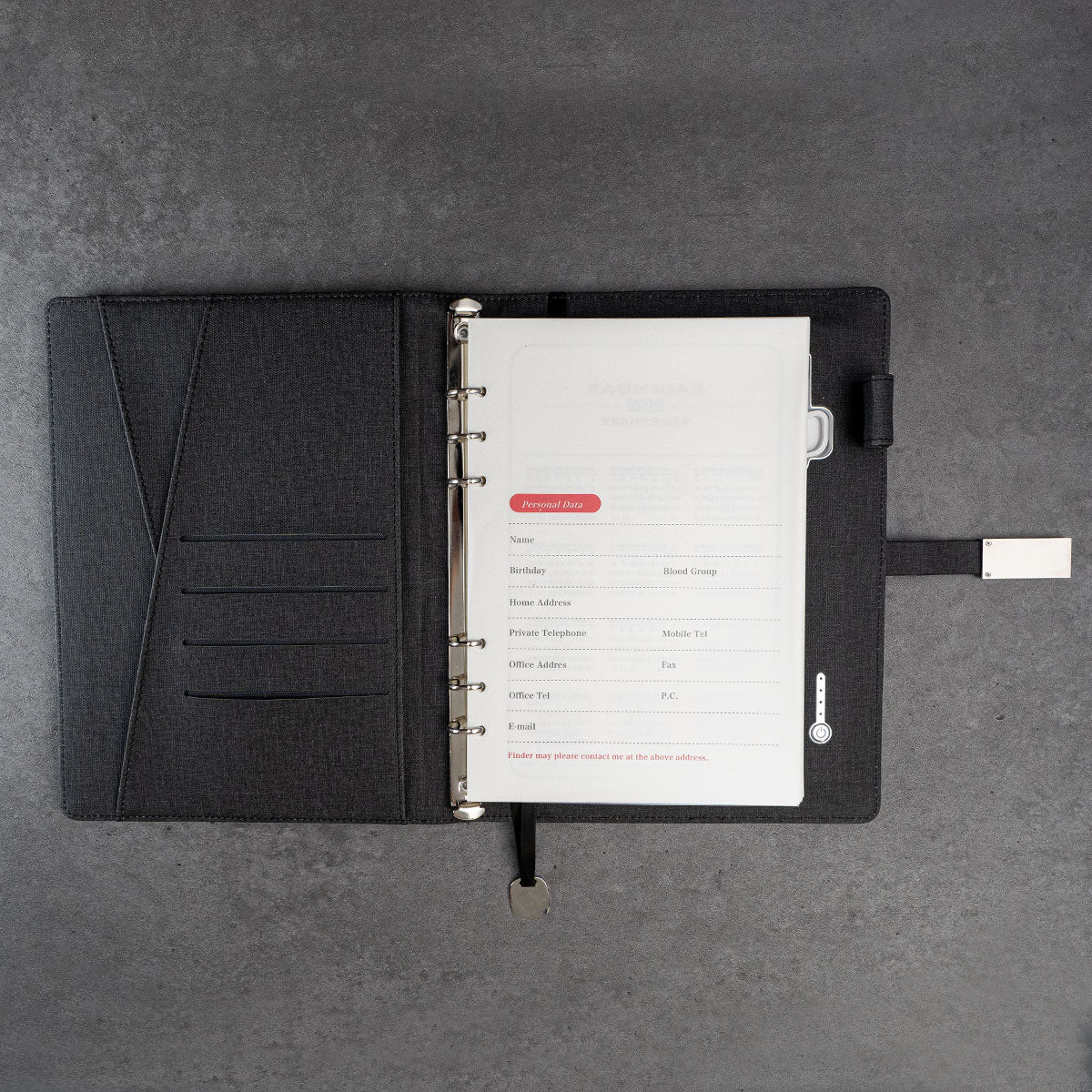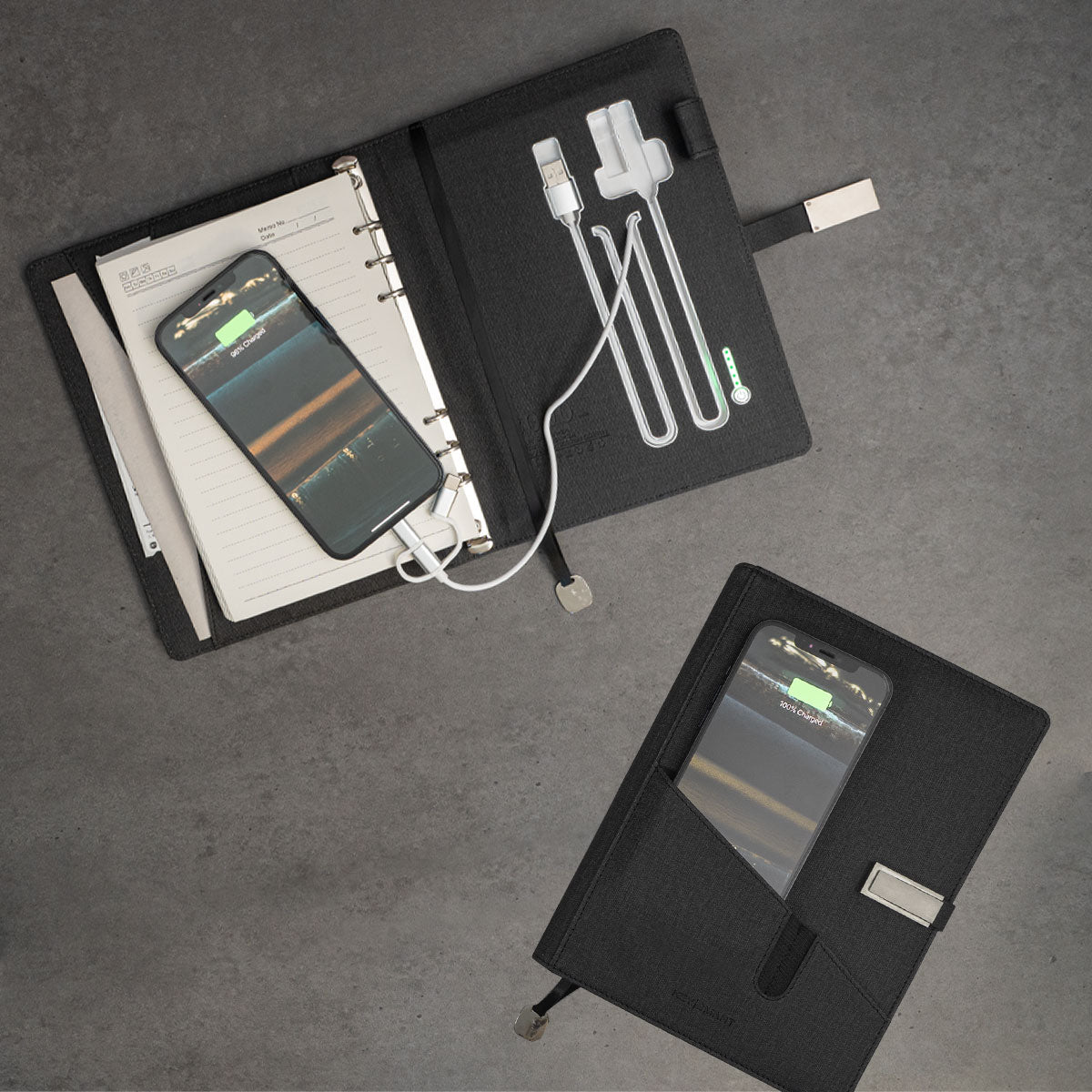 ChargeBook
🇺🇸 Shipping Within 24 Hours
Wireless & Wired Portable Charging  

built into the front cover and 3-in-1 charging cable  (type-c, lightning & android) with a power bank in the back cover

8 Pockets for Obsessive Organization

- Organize credit cards, cash, cables & more in 8 pockets. 

Built-In Rechargeable Power Bank

- The 8,000mAh rechargeable battery is ultra slim inside the front cover, capable of charging iphones, androids, tablets & more.

Premium Craftsmanship with a high-quality, durable feel. * Includes notebook and  magnetic clasp with a secret USB flash drive
Power On/Off Button: Located inside on back cover
Battery Indicator: LED dipslay 4 battery indicator lights
Dimensions: 7" x 9.5" x 1.6"
Power Bank: 8,000mah
Power Bank Input: DC 5V =2A
Power Bank Output: DC 5V =2A
Flash Drive: 30GB
3-in-1 Cable:  Type-C output, Android output, Apple output
Input: USB input
Notebook: Personal data sheet, World Holidays, International Airport Abbreviations, Metrics, World Info, Address Book, Memo No, Date, Calendar 2021-2024
*This product does not charge a laptop
How to use the wireless charger:
Turn on the power button on the inside of the back cover

Place your phone on the front cover in the pocket

Phone will light up when it begins charging
How to use the USB flash drive:
To remove the flash drive, push the flash drive in the direction of the arrow

To use the flash drive, insert this end of the flash drive into your device's usb port

To return the flash drive to the clasp, slide it in the direction of this arrow.
How to know when the battery is low:
*ChargeBook does not charge a laptop
Warning
Follow these basic precautions whenever using the Chargebook:
Read all the instructions before using the ChargeBook.

To reduce the risk of injury, close supervision is necessary when the ChargeBook is used near children.

Do not put fingers or hands into the product.

Do not expose the ChargeBook power bank to rain or snow.

Usage of a power supply or charger not recommended or sold by power pack manufacturer may result in a risk of fire or injury to persons.

Do not use the ChargeBook power bank in excess of its output rating. Overload outputs above rating may result in a risk of fire or injury to persons.

Do not use the ChargeBook power bank if it is damaged or modified. Damaged or modified batteries may exhibit unpredictable behavior resulting in fire, explosion, or risk of injury.

Do not disassemble the ChargeBook power bank. Take it to a qualified service person when service or repair is required. Incorrect reassembly may result in a risk of fire or injury to persons.

Do not expose a ChargeBook power bank to fire or excessive temperature. Exposure to fire or temperature 

above 100°C may cause an explosion. The temperature of 100℃ can be replaced by the temperature of 212°F.

Servicing must be performed by a qualified repair person and he/she shall only use identical replacement parts to ensure that the safety of the ChargeBook is maintained.

Switch off the ChargeBook power bank when not in use.
All items purchased from getkeysmart.com ship within 24 hours unless otherwise stated.
You can return any undamaged items within 30 days of receipt. To start a return and learn more about our return policy, click here.
All new KeySmarts purchased at GetKeySmart.com come with a 2 year warranty.
If your KeySmart breaks under normal wear and tear within 2 years of purchase, we will replace it for you. Click here for more details.
owner of a chargebook
How do I order refills? QR code doesn't work and I can reach anyone! [****]
Next-Level Organizer
I originally purchased this item because I was looking for a way to go about my day stress-free. When I found that the ChargeBook had a rechargeable power bank, I was immediately SOLD. I was able to add my pocketbook to this as well. I have been using it for a while and haven't encountered many issues. I would recommend using this without your phone case on.